So Disney has gone ahead and made a Christmas movie from "The Nutcracker." Is this what we're doing now? We're making big Hollywood movies from 19th century ballets? Anyone have any fresh ideas at all? Talk about low-hanging fruit: It's a sugar plum.
"The Nutcracker and the Four Realms " is visually marvelous, inconsistently acted and rather incoherent in that fantasy genre way. There's not even that much dancing, to tell the truth. Little kids might end up too scared and adults may need several shots of insulin.
There's a lot of stuff going on here so hold onto your popcorn. The story is based on E.T.A. Hoffmann's original 1816 tale, "The Nutcracker and the Mouse King," which went on to become a celebrated ballet with stirring music by Tchaikovsky. (One likely selling point for Disney is the soundtrack to the film is royalty-free.)
Screenwriter Ashleigh Powell has spun a tale of a spunky and brainy 14-year-old Clara who adores elaborate gear mechanisms and quotes Newton's Third Law. One morose Christmas, she gets a present from her late mother that sends her on a quest to the Land of Snowflakes, the Land of Flowers, the Land of Sweets and the Land of Hokum — sorry, that last one is the ominous Fourth Realm, which is overrun by rodents and fog and demented Cirque du Soleil performers.
Clara must unite all these divisive parallel worlds in time to return to her sad family and celebrate, well, being together. There are elements of Lara Croft, "The King and I" and "The Chronicles of Narnia" here, and it's safe to say the whole film would fall apart if not for a brilliant performance from Mackenzie Foy ("The Twilight Saga: Breaking Dawn") as Clara. Soft, angry, tender, pained and regal — Foy is absolutely luminous, both a tomboy and a princess. She speaks through her eyes and really digs into lines like "The real world doesn't make sense anymore."
The rest of the cast is uneven, to put it politely this Christmas period. Keira Knightley as the Sugar Plum Fairy seems to have modeled her character on Elizabeth Banks' role in "The Hunger Games" but thought the other actress was underplaying it and so has brought twice as much irritating energy, including saying things in squeaky voice like "Isn't it magnificent?" "banish'd," "tres chic" and "oh, poo."
At the other end of the spectrum is Jayden Fowora-Knight — he's awfully wooden and just because he plays a former nutcracker is no excuse. There's also Helen Mirren, who portrays the leader of the Fourth Realm with such a swashbuckling style that she's missed when not on screen. Plus, poor Morgan Freeman tries to bring dignity to Clara's eccentric godfather, but he's had better lines in Mountain Dew commercials.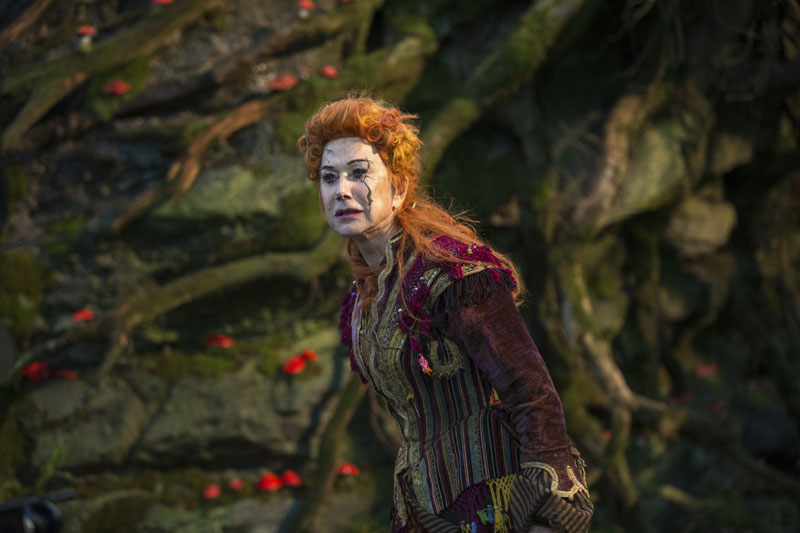 The real stars of this film are the hundreds and hundreds — sit through the credits and marvel at the number — of visual effects folk who have let us swoop over these snowy cities and forests on the wings of a bird, who use thousands of wriggling mice to come together to make one big Mouse King, and who make a legion of tin soldiers marching look positively frightening. And the lush orchestrations of Tchaikovsky, with sections repeated in different styles, show off this classic work well.
Disney has potentially opened the door with a sequel if this one succeeds. But, to be frank, it rather limps to the goal line: Clara's relationship with the nutcracker soldier ends chastely and she offers a vague promise to return — hopefully with an acting coach — to the land of sweets, flowers and snowflakes. But take your time, Clara. Don't rush on our behalf.
"The Nutcracker and the Four Realms," a Walt Disney Pictures release, is rated PG for "some mild peril." Running time: 99 minutes. One and a half stars out of four.